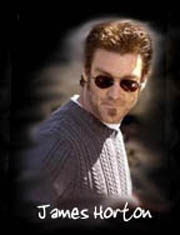 James Horton is Jordan's half brother. He is six years older than Jordan. Their mother had an affair with another police officer—Detective Malden. He was a young rookie at the time. He's become police chief. James killed Malden (he claimed self-defense) in 2003 (Season 2: Pandora's Trunk). James was taken in by the Horton family. They lived in rather direr straight (close to poverty—though there are two episodes that contradict themselves on this matter). James remembers the arguments his parents used to have—and believed he was the cause of all them, because he wasn't really their son. James's fingerprint was found at the scene of Jordan's mother's death, which caused Jordan to wonder what her brother had to do with their mother's death. He claims he never killed her. He went there that day to talk with her. She warned him that someone was out to get him and her and he needed to be careful. Max has kept tabs on James since he gave him away.
Ad blocker interference detected!
Wikia is a free-to-use site that makes money from advertising. We have a modified experience for viewers using ad blockers

Wikia is not accessible if you've made further modifications. Remove the custom ad blocker rule(s) and the page will load as expected.