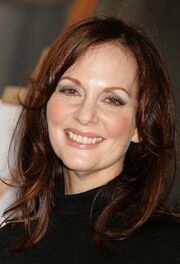 Arlene Lebowski Lily's aunt and adoptive mother. She first appears in "Don't Look Back" (2x08), as it is apparent that she and Lily do not have the best of relationships. Arlene reappears in "Locard's Exchange" (4x17), visiting Lily yet again, but the visit is short-lived as Lily orders her out of her life and moments later, she is mortally wounded in a hit-and-run. As a result, Lily turns over a new leaf, even petitioning the justice system to make sure that the person who hit Arlene, a woman who believed she was her husband's mistress, gets due justice.
Ad blocker interference detected!
Wikia is a free-to-use site that makes money from advertising. We have a modified experience for viewers using ad blockers

Wikia is not accessible if you've made further modifications. Remove the custom ad blocker rule(s) and the page will load as expected.